More Pictures from Absolute Value
October 20
AbsoluteValue Software also made some pictures from ALS available. Thanks!
ALS 1999 is over!
October 16
Here are the people that made it happen: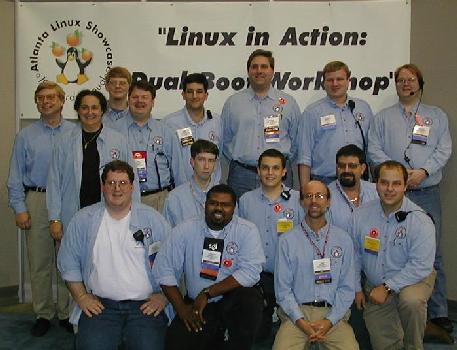 Back: Paul Manno, Blake Sorensen, Marc Torres, Robbie Honekamp, Joakim Erdfelt, Levien de Braal
Middle: Valerie Cox, Danny Cox, Chris Farris, Greg Hankins, Steve Lewis
Front: Hunter Eidson, Vernard Martin, Ben Cooper, Louis Bouchard
The NeXT box is working!! We have a winner!
October 16
To fix the problems on the Novare box, Zephaniah ("Mercury") Hull modified the kernel source so that it dropped bad network packets before even trying to process them. A crude hack, but effective, and as a result, Zephaniah will get to take the NeXT box home with him!
The XFree86 Development Hothouse, an unqualified success
October 16
The XFree86 Development Hothouse was so successful that XFree86 4.0 is now expected to be released by the end of December, reported The XFree86 team members who participated. For more details, check this report from Liz Coolbaugh on the team's summary of the achievements of the hothouse.
The Results of the Puffinfest
October 16
The Puffinfest, which had the goal of here at the show is focused on furthering the port of Linux to HP's PA-RISC line of HP 9000 UNIX servers, was a success. Alex deVries, Vice President of Engineering at the Puffin Group, reported to us that the Puffinfest brought quantifiable progress to the HP port, including correct interrupt handling, serial console support, the beginning of SCSI controller support and, for the finale, they actually got a shell up and running. They also did some planning for introducing 64-bit support and HP is offering their engineering support and hardware to further progress.
Linux Professional Institute: Council Call!
October 16
LPI Advisory Council: Call For Test Questions Over 25 members of the advisory council of the Linux Professional Institute met today to plan the future launch of the first LPI Linux Certification Exams. Members of the Linux Community are being asked to help write test questions. The planned launch of the exams, with an announcement at the Linux Business Expo accompanying COMDEX, depends on our ability to help LPI out quickly.
LWN Booth Babe!
October 16
Ever responsive to people's requests, LWN arranged for their own Booth Babe!
Free NeXT machine available in the Debian booth
October 16
Novare is sponsoring a NeXT hack in the Debian booth. The current status of the port has a buggy network driver. It dies at random points during bootup with an 'skput:over' error message. If anyone can get it booting, they can take the box home with them after the show. Please come to the Debian booth, and talk to Adam Heath(aka doogie) for details.
LWN headlines available as 'My Netscape' channel
October 16
Well, we finally got our act together and set things up so that our headlines are available as a "My Netscape" channel. For those of you who use "My Netscape," it should be sufficient to hit this link to see LWN on your page.
More pictures
October 15
Additional pictures have been added to our Pictures Page (and some of the others have been "improved").
Loki Hack 1999: 48 hours of fun (no sleep)
October 15
Check out this report on Loki Hack 1999. Kudos to Loki Games, Activision and especially all the participants, who shared knowledge with each other to produce tremendous results in a short time working with over 500,000 lines of source code that they had never seen before.
NetBSD Exhibiting Multiple Platforms
October 15
NetBSD is here at ALS, and they are showcasing their operating system running on Intel, Strongarm, PowerPC, and Alpha boxes. XFree86 and Enlightment on NetBSD, running on an a PowerPC G3! What fun!
LinuxMall on the road to an IPO?
October 15
Linux Mall's partnership with SCO was announced in a press conference at ALS on October 14. Hambrecht & Quist has also taken a minority stake in Linux Mall. "We're on the IPO track." confirmed Mark Bolzern who continues to hold the majority controlling interest in Linux Mall after this deal. There is no guarantee such an IPO will happen or be successful. However, many investors might welcome an IPO from a Linux company with revenues that have been and continue to be in the black.
Online Form Allows Vendors to Post Announcements
October 15
Got an interesting news item that your organization is announcing at the Atlanta Linux Showcase? Head on over to our official ALS news submission page and send us your note.
SCO Money for LinuxMall - CEO (Bolzern) promises vendor-neutrality
October 15
SCO and the investment firm Hambrech and Quist are putting money into LinuxMall.com. Mark Bolzern promised that the money would not change their "long-standing, vendor-neutral and community-oriented business approach.
Talk Report: Linux at the Chasm
October 15
Tim Fournet, one of our LWN volunteers for the show, has provided us with a report on Don Rosenberg's talk, "Linux at the Chasm", which was given yesterday at 11am.
SGI Global Education - but no Jeremy!
October 15
We just got handed an invitation to SGI Global Education's "evening of cocktails, hors d'oeuvres and Linux discussion", which is scheduled for tonight, Friday, from 9pm to midnight. Interestingly enough, Jeremy Allison, the keynote speaker, (who, as it happens, works for SGI), also learned about the event from the same invitation! He'd love to be there, but his flight is scheduled out this afternoon ...
Linux Internationalization Initiative
October 15
Li18nux, the Linux Internationalization Initiative has been founded, consisting of Linux distributors, open source projects, IT vendors and world-wide technical experts interested in internationalization. Some of the initial founders include Caldera, Debimaru GNU/Linux, Plamo Linux, Red Hat, SuSE, TurboLinux and over 30 others.
Unconfirmed Rumor from the floor: Big sale for IBM
October 15
We hear that a very large number of IBM RS/6000 Enterprise Server B50s running Linux have been sold here at the show.
Zendragon Software Announces Linux-Exclusive Game
October 15
You heard me - Zendragon Software is partnering with Loki Entertainment to bring a Linux-only game to market. The game will be available only for Linux and for the Sony Playstation. Matthew Allen, Vice-President of Development for Zendragon Software says, "Life is good." -Dave
Linux Today joins the LWN ALS Show coverage team
October 15
We're pleased to report that Dave Whitinger and his team will be joining with us today to increase and improve our coverage of the Atlanta Linux Showcase! Keep your eyes peeled for the additional news and reports.
Pictures!
October 14
Thanks to Dennis Tenney, Sean Summers and Tim Fournet for our first pictures from the show.
PA-RISC/Linux Puffinfest
October 14
The Puffinfest here at the show is focused on furthering the port of Linux to HP's PA-RISC line of HP 9000 UNIX servers. Jointly sponsored by Hewlett-Packard Company and The Puffin Group, the Puffinfest brings developers together in a private and secure development lab, with internet access, hardware, and documentation, to take the project to the next level. The Puffinfest is an example of the type of hothouse that the ALS loves to support.
Live web cam online
October 14
Adam Heath and the Debian booth have put up a live web camera at their booth. It is being updated once a minute during exhibit hours.
External Mirror available
October 14
For people reaching this site from outside the show floor, please note the external mirror available on the LWN site. If you would please use this, it will help to keep the traffic internal to the show floor more manageable. Thank you!
Beta Driver for OnStream DI30 Tape Drive
October 14
OnStream has announced the beta of a driver for their OnStream DI30 Tape Driver. This was written independently by Gadi Oxman, maintainer of the standard Linux IDE tape driver and is open source. "OnStream will continue to work with Mr. Oxman to make new versions available to the public as soon as possible".
Words from the Welcome Dinner
October 13
The ALS provided a welcome dinner this evening for speakers and exhibitors. Marc Torres addressed the crowd with a few words. For those unfamiliar with the ALS show, he described their goal, not to be just a tradeshow, but to be a conference truly for the Linux community. To further that aim, the ALS this year added their Development Hothouses for XFree86, the Loki Hack and the Puffin Group. More such community-building activities should be expected in the future.

He also mentioned that ALS2000 was planned for the same facility next year and expects to expand on this tradition.

Chris Farris then introduced the ALS staff who are working so hard on the show and provided up-to-the minute details for exhibitors.
Welcome to the Atlanta Linux Showcase!
October 13
This website is dedicated to information live from the floor of the Atlanta Linux Showcase. We plan on bringing to you reports from various talks and tips on items from exhibitors. There are many other Linux newssites located out here as well and we'll try to link to any and all items that they provide. LWN is very pleased to have the opportunity to contribute to ALS, a true Linux community show.

A word to our sponsors: VALinux contributed the server on which this website is being maintained and served on the show floor. Aspen Systems donated the use of a desktop workstation for the use of the LWN staff in the maintenance of this site (and has been great helping us track down the monitor that went missing ...). Most of all, of course, we thank the ALS team for putting on a great show and for asking us for our participation.

Tips and items for the page: These should be sent to lwn@linuxshowcase.org (which won't be working until 9am Thursday morning -- use lwn@lwn.als.linuxshowcase.org for items you want to get in early). Of course, if they are of general interest outside the show, you can also send them into lwn@lwn.net or to your favorite Linux news site. If you do send it to another newssite, please let us know the URL when it becomes available and we'll link it onto the show page.
Updated Exhibitor map with live links.
October 13
Adam Heath (Doogie) has built an image map of the exhibitor hall that will allow you to click on a booth and link directly through to the home page of the vendor. Give it a try! Quite fun. Only one or two vendors are missing still.