Please note that security updates from the various distributions are covered in the security section.
News and Editorials
What is a Linux Distribution?. Three years into writing this weekly column, it seems appropriate to stop and define some of the terminology that we so freely use. To start with, we'll take a moment to define what we mean when we use the term "Linux Distribution".
A Linux distribution is, in essence, a software package.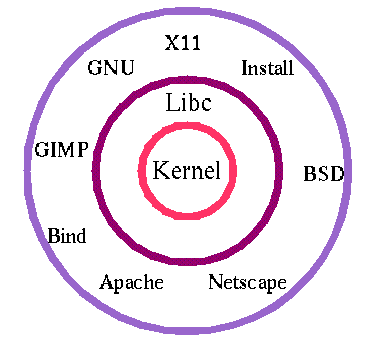 As demonstrated by this graphic, that package generally includes three layers of software: the Linux kernel, the C library and then an arbitrary set of applications to provide the specific functionality required.
Anything that fits this model is, essentially, a Linux distribution. That can mean anything from a package small enough to fit in a 4MB Flash card to a package large enough to require multiple gigabytes of hard disk space. Because the Linux kernel itself is highly flexible and supports an amazing number of hardware platforms, it scales very well in size from very small to very large.
From the diagram, you can also see that any two Linux distributions can actually look very different to the end-user. The choice of packages that are included with the distribution will determine the look-and-feel. Two different distributions might have in common only the kernel and the C library, while supporting an entirely disparate set of applications.
Correspondingly, to confuse the issue, there are operating systems out there that look a lot like Linux. For example, the Debian GNU/Hurd operating system is based on the Debian system, but with the Linux kernel replaced with a Debian GNU/Hurd kernel. Once completed, the Hurd will essentially be an operating system that looks like Linux, acts like Linux, feels like Linux to the end-user, but is not Linux, because it does not contain the Linux kernel.
The *BSD operating systems are another example of this. As shown in the diagram, BSD tools are often included in Linux distributions, since they are also Free Software. In turn, many applications popular on Linux systems are also included by default in FreeBSD, NetBSD and OpenBSD. So to the end-user, the difference between Linux and BSD may appear very small, depending on what applications they use and how far into the operating system kernel they delve for their basic work.
However, we would not call NetBSD a "Linux distribution". Why not? Well, to start, the NetBSD folks might very well get offended, since they've been around a lot longer than Linux.
This may seem to be a moot point, but back in December, Sun's Scott McNealy actually referred to Solaris as "our implementation of Linux". Now Solaris doesn't run the Linux kernel, but it can run binaries compiled on Linux systems and it can support most of the Free Software applications that you'll find on Linux systems. So, since Sun apparently doesn't find the notion offensive, should we consider Solaris a Linux distribution?
Well, the final arbiter on that will be Linus, since he is the holder of the Linux trademark. For our purposes, though, Solaris will not be included, simply because it is not Free Software. No proprietary operating system will ever, in this column, be deemed a Linux distribution. However, we would uphold Sun's rights to claim that Sun is "Linux-compatible", given the amount of effort they've put in to supporting the Linux API.
We'll talk a bit more next week about the criteria used to add or remove distributions from our set of distribution links.
New Distributions
Icepack Linux. Henry Westbrook dropped us a note mentioning another distribution not currently on our list. Icepack Linux is a new general-purpose distribution out of Germany that started shipping January 29th (Henry was one of the beta-testers). Icepack is focused on the home Linux user, costs about $35 (including shipping) and comes with unlimited email support. Note that businesses are not eligible for the unlimited support.
Icepack is definitely not a light-weight distribution. It use the Gnome desktop by default (KDE support is promised in version 2.0) and a minimum of a gigabyte of space is recommended for the installation (2GB if you plan on using StarOffice, etc.).
Unique features to icepack include their own graphical boot manager (icepack boot manager), a new package format, 'ice', and a configuration manager for configuring new hardware. The distribution is not based on any other distribution but is, instead, entirely developed from scratch. Supported languages so far appear to be German (Icepack is based in Germany) and English, though they do provide a version of their website in French as well.
For a brand-new distribution, the website for Icepack is in excellent shape and contains a lot of good information. Henry, as a beta-tester, gives the distribution very high accolades. We will look forward to hearing how well it works for Linux home-users in the future.
NIC Linux. We first mentioned Oracle's NIC (New Internet Computer) back in July of 2000. It is an appliance (or X-terminal) that allows access to the Internet for as low as $199 (without monitor), contains no hard drive, uses a 4MB Flash disk and runs Linux off of the CDROM drive. Included with the NIC is Netscape, VNC, some games and a few basic applications.
Back in November, a link to the on-line version of the NIC packages was included on our development page. Recently, however, one of our readers (thanks, Jerry!) pointed out that NIC Linux could also be considered for addition to our distributions list. We have to agree, particularly since a community is developing of NIC users wanting to add features into their NIC 4MB Flash drive or burn new NIC CDs with additional applications included. Since the base NIC CD occupies less than 200MB of the 680MB CD disk capacity, there is lots of room for additional software.
Anyone interested in playing around with NIC Linux may also want to check out the ThinkNIC group on Yahoo, which appears to be an active source of support for the new ThinkNIC community.
GNU Brutalware. A new addition to our line-up of floppy-based distributions, Brutalware comes out of Slovakia. It loads onto three floppies and provides basic networking (requires bootp), lynx, ssh and a few other packages. It is designed primarily to be used on public systems running Microsoft. As such, it loads by default via the MS-DOS Loadlin package. That will allow Linux to load even if the system is configured not to boot off the floppy drive. Of course, once you're done, the floppy can be removed and the system rebooted to restore the original operating system. (Thanks to Richard Jelinek).
Distribution News
Debian News. The Debian Weekly News is back this week after a one-week hiatus, but is much briefer than usual. As a result, we can guess that DWN Editor Joey Hess is even more inundated with activity than usual.
The Debian Project Leader elections started yesterday, March 7th. Here are the platforms we found for the nominees Ben Collins, Branden Robinsen and Bdale Garbee. We did not find a platform for Anand Kumria, though he also nominated himself for election. For discussion of the election, check the debian-vote mailing list archives.
Slackware News. The big development news for Slackware this week was the upgrade to KDE 2.1, which has been performed on all three platforms (Intel, Alpha, Sparc). In addition, upgrades to openssh-2.5.1p2 and proftpd-1.2.1 were performed.
The Alpha platform saw more activity than this, though, with the addition of AfterStep-1.8.8, bbkeys-0.3.5, and the Simple DirectMedia Layer, plus upgrades to blackbox-0.61.1, icewm-1.0.6, parted-1.4.9 and pinfo-0.6.0. A new Linux 2.2.18 kernel has been generated as well, along with matching boot disks. Last, a large amount of cleanup work has been performed.
On the Sparc platform, an upgrade to RPM 4.0 was done. In addition, new SILO boot disk images are now available and much in need of testing. Check the Changelog for relevant notes before you test these out.
The topic of Ximian-Gnome came up on the Slackware developer forum. The main upshot is that Ximian doesn't support Slackware and Slackware won't install Ximian as a default -- you'll have to wait until the features are part of the stable Gnome. [From userlocal.com].
Linux-Mandrake News. Tractopel explained: the new beta for Linux-Mandrake 8.0 is named "Tractopel". We figured an explanation would show up eventually and, sure enough, here it is.
An FAQ for the first beta of Linux-Mandrake 8.0 is now available.
If you're a MandrakeForum fan, you might also be interested in checking out this tip on how to use KWebDesktop to display MandrakeForum headlines on your background.
Meanwhile, for people running Linux-Mandrake 7.2, KDE 2.1 rpms are now available.
Red Hat News. From the wolverine mailing list (Red Hat 7.1 beta 2), it appears that the next version of Red Hat will be shipping with Mozilla 0.7, which has been judged a better option than Netscape 6. Netscape 4.76 will also be shipped. Meanwhile, ReiserFS will not be included; it is still considered to be too unstable. Red Hat has not made the same manpower commitment to ReiserFS that SuSE has, for example, which makes it hard for them (Red Hat) to ship a stable version of that filesystem.
Minor distribution updates.
Distribution Reviews
ActiveWin.com reviews Linux-Mandrake 7.2. ActiveWin.com is best known in the Microsoft community. Reviewing Linux software is simply just "not what they do". However, they decided to make their first exception with their review of Linux-Mandrake 7.2. Overall, they appeared to like it quite a bit, "Linux Mandrake is a great step for the Linux world. It makes the operating easy to install, use, and live with and it is extremely reliable. The MandrakeSoft team has made a great job with this new user-friendly revision but some bugs still exist." [From MandrakeForum].
Trustix Secure Linux 1.2 (Duke of URL). Security is the focus of the Trustix Linux distribution, according to a review by the Duke of URL, and it delivers what it promises. "Trustix Secure Linux is a distribution that has one focus and one focus only - to provide a server distribution that is secure. There are no frills with this distribution. When you install Trustix, you very quickly realize that you are on the business end of the server. There is no GUI, nor are there any real configuration tools. What you get is very close to a traditional UNIX server."
Linux Terminal Server Project (LinuxLookup). LinuxLookup has a short article on one man's trip into the Linux Terminal Server Project. "For those who may not see any particular application for this project, consider a diskless client running an X windows front end WITH NO FAN! I thought that in itself was worth the effort to explore the LTSP. Imagine running a small internet appliance on your desk that only comes to life when you tap the keyboard or move the mouse and doesn't have the constant noise of a fan. Nice, to say the least".
Section Editor: Liz Coolbaugh