Weekly Edition
Daily updates
Events Calendar
Book reviews
Penguin Gallery
Singapore Linux Conference/LinuxWorld Singapore 2001
March 26, 2001
Liz Coolbaugh
The Singapore Linux Conference/LinuxWorld Singapore 2001 was held on March 21 to 24. LWN editor Liz Coolbaugh was able to attend and speak at this conference. Below you'll find her overall impressions of the event; see also the following writups of specific happenings at the conference.
A history and summary of the event
The title for this conference is quite long. As one might guess, there is a story behind that. The Singapore Linux Conference started in 1999, sponsored and run by the Linux User Group (Singapore), affectionately known as LUGS. Don't call it the "Singapore Linux User Group". In this case, since Singapore is not just the city in which the group resides, but also the name of the entire nation of four million people, entitling it the "Singapore Linux User Group" has the potential to confuse some locals, by implying that the volunteer group is sponsored by or supported by the government, one of many small lessons in international etiquette to which I was exposed this past week.

To begin again, the 1999 version of the Singapore Linux Conference (now dubbed "Release 1") was entirely a volunteer effort. It included some good ideas that have been kept, such as the LUGS Awards, which annually recognize contributions to Linux and Open Source software both in the Asia/South Pacific region and in Singapore itself, and others that have been not been kept. In that category lies "Linux Family Day", an event held Saturday after the first conference which included demonstrations of software of interest to the families of Linux users and more. Although deemed both successful and a lot of fun by the attendees, it pretty much exhausted the organizers.

The 1999 event was relatively small, with a few hundred attendees. Initially planned with only talks, local companies contacted the organizers and asked for the opportunity to have booths at the event as well.

In 2000 (Release 2), the demands of the event exceeded the available time commitment for volunteers, so a partnership was formed with IDG World Expo. LUGS continued to plan and run the talks, while IDG took over arranging for exhibitors and was given overall responsibility for coordinating the event. Held in February that year, before the Linux and Internet stock downslide, the conference drew yet more people, while the exhibit area, which required no entry fee, drew over 10,000 people. This was the first year with the long, combined titled.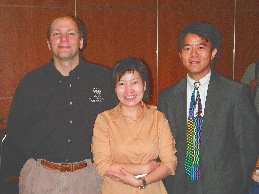 Donald Becker, Gary Fung and Rosalynn Chua

This year's event (Release 3) contrasted strongly with last year's. Initially planned to handle yet an even larger number of people, the size of the conference was scaled back dramatically as it became clear that interest was much lower this year. Even so, because the rooms had been optimistically planned to handle large crowds, the attendance appeared even smaller, due to the number of empty seats. The number of booths was at an all time low, with only SGI and Borland representing major international vendors and a handful of local Singaporean vendors present.

Still, competition for this year's LUGS Awards 2001 was very respectable. Singaporean winners included eLinux, for its Beowulf cluster solutions and Enixus Pte Ltd, for its 100% Linux business environment (including the Gimp and Star Office 5.2). Outside of Singapore, Bastille Linux garnered a prize for best new Enterprise Application for Security. Awards were also given for Best New Hardware (Celestix Networks' Aries Server), Wireless (3ui's Ophelia), and to Open Source Telecom, for being "the first and only provider of entirely free software based enterprise class telephony applications and services in the market today".

Last, the Temasek Award was given to Hwa Chong Junior College, one of the local earliest adopters of Linux and an important local mirror for popular Open Source software.

Over the short space of time available, I sought to find a definitive answer to why the size of the event had diminished so dramatically. LUGS is still clearly an active and passionate group, with whom it was a pleasure to work. The staff of IDG World Expo, who held overall responsibility for coordinating the event, were also efficient and friendly. The combination of the two appears to be beneficial to both; the strong volunteer influence benefits the conference program and draws loyal attendees, while the professional staff of IDG World Expo can more easily attend to the details of running such a conference.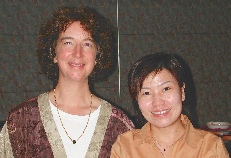 Liz Coolbaugh and Rosalynn Chua

This being my first event in Singapore, and indeed, anywhere in Asia, it is likely that I'm missing the necessary information to draw a firm conclusion. However, from my brief stay, and from Singapore's historical status as a Free Trading post and now as a unique commercial state, I would guess that a lot of the people who came last year weren't using Linux and weren't even sure they wanted to use Linux. They came because the US stock market indicated somebody somewhere was "making money from Linux" and they came to find out how and why. Now that the stock market craze is gone, the conference has diminished to those who are already using Linux or are interested in making money with Linux, that is, using Linux or other Open Source software to make their companies more efficient, more stable, more competitive, for less monetary outlay.

I was told, informally, that the situation in Singapore is not the same as in Indonesia and Malaysia. The relative wealth of Singapore makes commercial software both the profit center for many of their large companies and the financial issues of software licensing less of a concern. In other, less-wealthy areas, the cost-savings issues have driven Linux to a higher prominence. I certainly hope to get an opportunity in the future to visit other regions in Asia/South Pacific to get a better feel for the similarities and differences.
Other side notes
Linux was not the only free operating system represented at the conference. Greg Lehey came out and gave both tutorials and talks on FreeBSD, and FreeBSD CDs were provided to all attendees.

Although still not a large number, the percentage of women attendees was actually higher than I have seen at comparable conferences in the United States. From 24 people sitting in my section of the keynote room, seven were female. Though I might have doubted this perception, based on such a small sample and my own observation, Richard Sharpe confirmed that he had noted the same thing at Linux conferences in Malaysia and Indonesia. Why? I have no idea. No one has come up with a definitive reason why the percentage of women in Linux/Open Source in the United States is so small. Perhaps the difference between the US and Asia will provide an additional clue for some sociologist to follow.

Coverage of the second day of the conference is almost non-existent. I spent most of the day interacting with LUGS members and other speakers, picking up names to match most of the pictures I took and presenting my own talk. That means a lot of good talks did not get represented. Of course, that was true of the first day as well, since there were two tracks and I could only be at one of them.

My apologies that the pictures from the conference were not the best that they could be. I was informed by Willy Too, a member of LUGS, that I was carrying one of the best digital cameras in the world, providing fine manual control for picture taking. Unfortunately, I was unaware of this (the camera is not mine) and did not even have the manual for the camera with me. Fortunately, Willy has promised me the name of an excellent book to repair my insufficient skill before my next opportunity to use it.

Unedited versions of all the pictures I took at the event, plus others taken by Greg Lehey, are also available.

Richard Sharpe

Both Richard Sharpe and I were interviewed by Channel News Asia on Thursday. Richard was interviewed about Samba and I was interviewed about why Linux and Open Source are important economically to Singapore and the Asia/Pacific region. It was my first experience with a television interview. It closely resembles interrogation scenes I've seen on both TV and film. They tell you to only look at the interviewer (David Cheng from MediaCorpNews), not at the camera, then they shine an incredibly powerful spotlight from immediately behind the interviewer's head. I had to look directly into the light and could only see an outline of his head in black.
Nonetheless, it was great fun. The program is aimed at a highly technical audience, so I didn't have to start from the ground up. David promised to send me a note if they make a clip from the show available on their website and I've asked the LUGS members to make me a copy if they see it published, but I also know I may never see the results
Many thanks!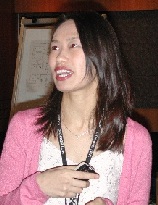 Jenny Chin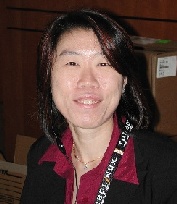 Rita Goh

I wish to extend my thanks to IDG World Expo for their invitation to the event, particularly Gary Fung, Vice President, for coming by my talk at LinuxWorld New York and Rosalynn Chua, for working with me to make it possible for me to attend. In addition, IDG World Expo staff members Jenny Chin and Rita Goh took excellent care of me while I was there, which I much appreciated.


The members of LUGS that I would also wish to thank are almost too numerous. They certainly include Raymond Ng, LUGS Chairperson, Harish Pillay, who answered so many of my questions so patiently, Sanjeev Gupta, Willy Too, all the staff from eXtropia (who made excellent dinner companions) and many, many more. I certainly hope to return to Singapore to see you again and look forward to visits from those of you that make it over to the "States".

On a non-Linux note, my three days in Singapore, accompanied by a friend, were also wonderful. We visited the Singapore Zoo, which is world-famous and quite beautiful, had breakfast with the orangutans, walked the "World's Only Night Safari", visited Chinatown, the Raffles Hotel, the Financial District, Hindu temples, Chinese temples, the Botanical Gardens (my absolute favourite) and dined out in the evening on Boat Quay. Everywhere we went, we were met with courtesy, kindness and best of all, a sense of humour. I can't wait to return, or to extend my travels to the areas around it, Malaysia, Indonesia, Thailand and more. It was quite difficult to return to cold temperatures, misty skies and snow in Colorado.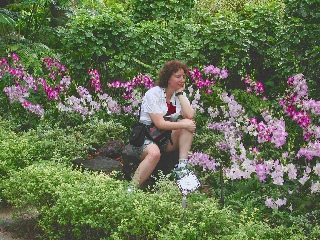 Liz Coolbaugh in Singapore