Sections:
Main page
Security
Kernel
Distributions
Development
Commerce
Linux in the news
Announcements
Back page
All in one big page


Other LWN stuff:
Daily Updates
Calendar
Linux Stocks Page
Book reviews
Penguin Gallery


Archives/search
Use LWN headlines
Advertise here
Contact us


Recent features:
- RMS Interview
- 2001 Timeline
- O'Reilly Open Source Conference
- OLS 2001
- GaŽl Duval
- Kernel Summit
- Singapore Linux Conference
- djbdns


Here is the permanent site for this page.

See also: last week's LWN.
Graphics presents under the tree. With very little fanfare, and in a slipped-release schedule matched only by the Linux kernel itself, GIMP 1.2 was released to the masses on Christmas day, a gift to the starving artists who have been waiting patiently for a reprieve from the stranglehold of Adobe, the pains of Corel's PhotoPAINT-on-WINE and the limitations of GIMP 1.0.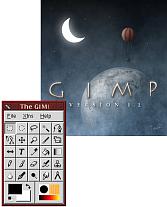 Ok, so it's not that dramatic. But if you haven't been using the developers releases for the past year and a half, then you're in for a big suprise. GIMP 1.2, which was referred to in the announcement posted to the developers mailing list as "the Hadjaha release" (just who is in charge of code names anyway?), takes the graphically-addicted users of the Linux world to regions most Linux desktop naysayers dared not admit were possible.
While still lacking real color matching features needed for serious print work, GIMP 1.2 is the digital artist's dream machine. Most serious users have found the Perl scripting interface the most important new feature. Repetitive processes on extensive frames of video can be automated using that interface - and that makes GIMP 1.2 a popular tool in Hollywood.
But there is much more in GIMP 1.2 than scripting. Extended tablet support allows greater control through Wacom drawing tablets, thanks to proper X Input support in both XFree86 and GTK+. All drawing tools - including all of the new ones like Smudge and Dodge & Burn - include support for drawing tablet pressure and sensitivity features. New brush types provide both color and varying stroke styles (known as Brush Pipes). A large number of new filters have been added and old ones improved - the old Transform Tool got a big facelift and is much more interactive and easier to use on low memory systems. Best of all are the vastly improved print services which, at least for the Epson Stylus Color 740, produce extremely high quality prints on a variety of media.
The best news is that GIMP 1.2 has few dependencies that won't be satisfied by most recent Linux distributions. One exception to that may be dependencies for some of the Perl scripting interface code. The new GIMP uses GTK+ 1.2.8, a GUI library that's been available since March 2000. RPMs were posted to the web site but at the time of this writing, they had not made it to the public FTP site. You can expect them soon.
Why is GIMP 1.2 so important? The biggest reason is desktop viability for Linux. GIMP shows that professional packages can be created for this environment targeted at non-technical users. It makes efficient use of available resources. It provides numerous extensibility features, from plug-ins to modules to extensions (all of which are slightly different). Though some users have complained that the interface is a little difficult to use, most Photoshop users have been able to jump in and become productive with GIMP very quickly. GIMP 1.2 is a real production-quality tool. And even though color matching may not be available, the GIMP can be used to produce high quality images destined for print - from posters to CD covers, from magazine covers to glossy advertisements.
The GIMP is also one of the most visible Open Source tools being ported to non-Linux platforms. Ports are available for most Unix systems as well as Windows. Ports to BeOS and the Mac are in various stages of completion. While Linux sits in backrooms grinding out web pages with Apache and mail with Sendmail, GIMP takes Linux (and Open Source) and puts it in front of many eyeballs. It's the visible flag waving Open Source needs.
With 1.2 now available, developers will start to turn their attention to 2.0 (or possibly 1.4, if such a release becomes necessary). Major changes are planned for 2.0 which will bring GIMP to a new level of sophistication - changes the special effects industry is requesting that will stun the typical user. All we can hope is it won't take 2 more years for 2.0. But then, it will most likely be worth the wait.
Linux 2.4.0-prerelease: a present for the New Year. On the last day of 2000, Linus Torvalds sent out a note announcing Linux 2.4.0-prerelease. Linus and the rest of the kernel team had hoped to get the final version of Linux 2.4.0 out in December, but development issues and some critical bugs decreed otherwise. Nonetheless, Linus has decreed that enough is enough. After a busy week, with three test kernels quickly released, the last bug considered to be a show-stopper was stomped, driver updates from Alan Cox were integrated and Linus released the official 2.4.0-prerelease with a strong promise that there would be no more test kernels. The next kernel release should be 2.4.0.
Don't expect it to come out tomorrow, though. Linus specifically indicated that he would provide some lag time so that non-Intel architectures could bring themselves up-to-date with the latest features and bug-fixes in the Intel tree (most kernel development is done initially on the Intel architecture).
Linus' announcement is good news for the Linux community, of course, but it also provided, by its timing, a present for the news media. The Christmas season is generally a time with a relatively slow news feed, at least pertaining to computer issues. The media finished out 2000 with stories picking on the lack of a 2.4.0 release, calling it "vaporware". The 2.4.0 prerelease allowed them to pick up the topic again, producing a larger media coverage than most beta kernel releases.
The hoopla aside, remember that even the release of 2.4.0 will not generally be a signal for everyone to jump on board and start using the new kernel. The various Linux distributions are eager to start shipping it, but they will want it to be stable enough for production use. That means more testing, by a broader audience, and more bug fixes before you start seeing the new kernel shipped by default with all the major Linux distributions.
When it comes, it will bring faster performance in most cases, particularly for large database sites, multiple-cpu machines, large memory systems and other enterprise-scale needs. For those that don't need it, though, the Linux 2.2.X kernel will continue to be supported for the foreseeable future.
Upcoming Linux Events. With the new year comes a new line-up of Linux events. This month, the linux.conf.au will be running January 17 - 20, 2001, for those of you "Down Under" and those of you not down under but lucky enough to make it out. This looks like an extremely fun, highly technical event. The speaker line-up is extremely impressive, including a list of kernel hackers and developers that has to be read to be believed:
Alan Cox (Wales): kernel guru, outlining secret plans for 2.4
Dave Miller (USA): kernel networking guru
Andrew Tridgell (Australia): creator of samba, rsync,, hacking TiVo
Wayne Piekarski (Australia): Augmented reality on Linux wearables
Rik van Riel (NL, in Brazil): kernel memory management
Craig Southeren (Australia): OpenH323 videoconferencing
David Huggins-Daines (USA): Linux on the PA/RISC architecture
Stephane Eranian (USA): IA64 Linux hacking
Anton Blanchard (Australia): got Linux running on the Sun E10k !
Richard Gooch (Australia, in Canada): devfs, and a new init system
Andrew Morton (Australia): Low Latency Linux
Martin Pool (Australia): rproxy -- rsync caching over http
Rusty (Australia): netfilter, apt-proxy, gzip --rsyncable
Horms (Australia, in USA): distributed content & high availability
Rasterman (Australia, in USA): Enlightenment, hardware accelerated X11
John Ryland (Australia): Qt/Embedded
George Lebl (USA): Bonobo (the GNOME component model)
Dave Sifry (USA): Calendaring (GCTP, OpenFlock)
Matthew Wilcox (USA): Leases & Directory notification
John Goebel (USA): Cluster administration, Global filesystem
Daniel Phillips (Germany): The Tux2 failsafe filesystem
Neil Brown (Australia): Linux RAID
Manish 'yosh' Singh (USA): Gimp 2.0 internals (GEGL)
Wichert Akkerman (Netherlands): Debian project leader

All we can say is, we wish we were going to be there.

Later in the month, the LinuxWorld Conference and Expo 2001 New York will be happening. LWN will have two editors there, both Liz Coolbaugh and Michael Hammel. We surely look forward to meeting as many of our readers there as possible. We won't have a booth, though, so you'll have to look for us roaming the floor or haunting the talks. We'll also be providing conference coverage.

Welcome to 2001! Don't ask us why, but it just feels different. We expect an interesting year as well.

Inside this week's Linux Weekly News:

...plus the usual array of reports, updates, and announcements.

This Week's LWN was brought to you by:
January 4, 2001