Sections:
Main page
Security
Kernel
Distributions
Development
Commerce
Linux in the news
Announcements
Back page
All in one big page


See also: last week's Commerce page.

This week it was Andover.net's turn to file for an IPO. Andover, of course, is the firm that recently bought Slashdot and Freshmeat. They are very much trying to position themselves as a Linux IPO, in the hopes of getting the same sort of rewards that Red Hat has received. Andover, however, is a very different sort of company, and their ability to convince investors is yet to be seen.

As always, there is a wealth of information to be found in their S-1 filing. Here are some highlights:
They claim: "Andover.Net is the leading Linux/Open Source destination on the Internet." Not bad for a company that only occasionally mentioned Linux before their acquisition of Slashdot this summer. Their claims extend to having "over 50% the visits to Linux resource sites on the World Wide Web."

Nonetheless, they want, surprisingly enough, to expand their market share further. Acquisition of other sites is listed as one way in which they will achieve that goal. They also want to make more money from e-commerce.

They plan to sell 4 million shares, just over 25% of the 15 million shares that will be outstanding at that time. A 25% piece is relatively large for "Internet" offerings - Red Hat sold closer to 10% of the company. Their stock symbol will be ANDN. They expect to bring in just under $50 million from this offering.

The usual sort of list of scary risk factors is listed, including: they are new at the Internet business; they plan in incur losses for some time; their quarterly results fluctuate a lot; they rely on the growth of Linux, and will suffer if Linux falters; negative reaction in the open source community could hurt them; their ad revenues come from a small number of advertisers; competition on the Internet is intense; they are vulnerable to Internet disruptions; they could be sued for what they publish;

A fair amount of information on the Slashdot acquisition is presented. Outright they paid $1.5 million in cash and $2.0 million in stock for the site. Those numbers will bump up to a maximum of $3.5 million cash and $5 million stock if the Slashdot principles remain employed there and meet "performance milestones."

Rob Malda has a three-year contract with Andover. Andover can terminate this agreement for "continued, uncured insubordination." How this clause fits with his claim of "total editorial control" is not spelled out in this filing. Rob can quit and take a year's salary with him for a number of "good reasons," including "the requirement by Andover.Net that Mr. Malda perform his duties from any specific location for a prolonged period of time."

Freshmeat was bought for $367,000 and $111,111 in stock, heading up to $667,000 and $333,333 in stock over the next two years.

Their e-commerce plans include the sales of computers, books, and CD's, as well as consulting services.

The majority of Andover stock is held by its management team, with a large chunk also in the hands of a handful of venture capital firms.
Andover sees much of its future role in helping people "transition" to free software from their current systems. Beyond that (and the e-commerce), much of their vision seems to consist of "do more stuff better."
Andover's IPO will not be handled in the typical Wall Street fashion - instead, the shares will be sold via a "dutch auction" process through the OpenIPO network. Essentially, this means that any interested party can put in a bid for the IPO shares. The highest bids will be selected until all of the shares are accounted for; the shares will then all be sold for the lowest of the selected bids. People interested in participating may want to look into getting an account with an OpenIPO-enabled broker in the near future.
LinuxOne also filed for an IPO this week. This company, with ten employees, plans to bring in $24 million from its stock offering; they want to trade under the symbol "LINX". Some of you may not have heard of LinuxOne before; some more information about the company can be found on its web site.
LinuxOne has its own distribution, called LinuxOne; it has only been available since September 9. Despite its newness, LinuxOne has high goals: "we believe it will become one of the more popular Linux-based operating systems in the world." LinuxOne is also apparently working with MandrakeSoft on the opening of MandrakeSoft's Beijing office.
Like Red Hat, LinuxOne plans to make its web site into a major attraction, "to create one of the definitive online destinations for the open source community." It is interesting to note, though, that if you telnet to their web server, you get a Red Hat prompt. As of this writing, they are not running their web server on their own distribution. A traceroute shows that their web server, the future major attraction, currently lives at the far end of a Pac Bell ADSL line.
They also plan to make money through the provision of professional services and support.
The company has been incorporated since last March, and has lost $17,000 since then. They have had zero earnings thus far. Nonetheless, they currently have almost $150,000 in the bank. This money seems to have come from private sales of stock; since the resulting owners have less than 5% of the company, however, there is no information on who bought it. About a third of the company is currently held by Wun C. Chiou, the president; another third belongs to the "Global Village Foundation," a nonprofit corporation where Mr. Chiou serves as a director.
There is an interesting quote regarding the offering price: "The offering price of the Shares was arbitrarily established by us in order for us to raise a gross amount of approximately $23,000,000 in this offering. The offering price bears no relationship whatsoever to our assets, earnings, book value, or other criteria of value."
Overall this is an interesting filing. There are numerous established companies which have not yet gone public; it is a bit surprising to see another one come out of the blue like this. It will be interesting to see how far they get. (See also: this Slashdot topic for more strongly-worded thoughts on this IPO).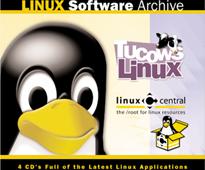 The Tucows Linux Software Archive. The folks at LinuxBerg were kind enough to send us a copy of their "Tucows Linux Software Archive" CD Set. It is a nicely-packaged box with four CD's inside. The contents: essentially the entire LinuxBerg site, including downloadable software.
In normal use, one selects a disk from the set, mounts it, and points a web browser at the "index.html" file on the CD. The result is a display that looks very much like the LinuxBerg site itself. One can select software categories, read the reviews, and "download" the software itself through the web browser. It's the full LinuxBerg experience, with over 2100 packages, but without the network delays.
On the downside, the packaging format for the software varies. A disk like this is most useful for browsing through the various software alternatives and trying things out. Most people will then likely want to download the current version of their selected software from the net. This mode of exploration would be much facilitated by providing all of the software in the package formats used by the major distributions. Trying to clean up after tarball-packaged software is a pain.
The ratings are also not the most helpful. Almost everything is four or five penguins, and there is little information on how the ratings were done. More information on the ups and downs of each package would be helpful.
Nonetheless, this is a useful set of disks. It is probably the best collection of free software out there, with the possible exception of the Debian distribution. Interested people can find this disk on LinuxCentral's site.
Freedom to innovate.
Eric Raymond takes on Microsoft's "Freedom to Innovate Network". "Microsoft's call for 'freedom to innovate' would be a lot more credible if they published full interoperability documentation for things like the Word file format, the SMB file-sharing service, NTLM, and the Exchange wire protocol. These proprietary, closed so-called 'standards' are the weapons with which Microsoft maintains its stifling monopoly on the PC software market."
Press Releases:
Section Editor: Jon Corbet.
September 23, 1999