Busy times at TurboLinux. Several announcements came out of TurboLinux this week, headed up by the investments made in the company by

Intel, Broadview Associates, and August Capital. Thus far, only one of the investors has gone public with their investment: August announced that its stake is $5.5 million.

What will TurboLinux do with the money? We asked TurboLinux North America Vice President Lonn Johnston that question, and he answered "drink better beer!" Once they have had their fill, however, they expect to have enough left over to deepen their development team, improve their sales and marketing in North America, engage in an aggressive promotion and branding effort, and in general put the infrastructure in place so that they can grow into a bigger company. TurboLinux employs 85 people currently; they expect to double that within four months.

Mr. Johnston hinted that part of that growth will include some high-profile Linux names, but was not able to elaborate.

TurboLinux also expects to grow through acquisitions, but is not talking about that either. They are also, of course, heading toward their first stock offering, but do not expect that to happen this year. When it does, they "definitely" intend to do some sort of community stock offering, though it may look a little different from Red Hat's offering.

LWN asked about TurboLinux's stated plans to overtake other distributors like Caldera Systems and SuSE, and eventually even Red Hat. Mr. Johnston pointed out that there is a lot of interesting Linux activity outside of North America and Europe. Much of that is in Asia, and TurboLinux has a very strong presence there. According to Mr. Johnston, TurboLinux's revenues for the last quarter are "not far behind" Red Hat's. Red Hat may be unmatched in branding, but that does not necessarily translate into overall market share.

Mr. Johnston pointed out in particular the success TurboLinux has had with various bundling deals. One was announced this week: Sanyo Electronics will be deploying 20,000 TurboLinux workstations in medical clinics throughout Japan. There is also evidently a deal that involves 40,000 systems in China. TurboLinux has agreements with two of the largest PC manufacturers in China, and expects to have a very strong presence there.

The Sanyo deal is interesting because it shows Linux displacing a proprietary Unix system (HP-UX) in a mission-critical application. Linux is working its way into areas requiring more trust, and doing well. Mr. Johnston expects to see "many more deals" like that one.

TurboLinux also does not much fear losing its home market in Japan, despite Red Hat's much-publicised entry there. They expect Red Hat to be a serious competitor, but also think that Red Hat will find Japan to be a bigger challenge than expected. TurboLinux has a very strong brand there, as well as a whole set of channel and distribution agreements. They think they can hold on to the market.

On the other hand, TurboLinux has no immediate plans to get into Europe in a serious way. Taking over North America is enough for them to work on for now.

They also do not see any point in trying to get into the Linux portal business, unlike their competitor Red Hat. Mr. Johnston says that model "baffles" him. There are plenty of good sites out there already, and a vendor-supported Linux site will never be seen as truly objective. TurboLinux is sticking with the software business.

Along those lines, expect some big announcements toward the end of the month, when the TurboLinux cluster product launches for real. This product has drawn some criticism over the last few months; parts of it will be proprietary at launch time, and TurboLinux's treatment of the Linux Virtual Server project has raised some eyebrows.

While Red Hat and the Linux Virtual Server project are building high-availability solutions on Wensong Zhang's virtual server patch, TurboLinux abruptly decided to drop Wensong's patch and roll their own. This decision was, according to Mr. Johnston, due to performance problems with the existing code; the new code is claimed to be much faster.

Mr. Johnston claims that the portions of their clustering solution which are currently proprietary will be released under an open source license - after 6-9 months.

Meanwhile, we should expect to see some major corporate customers step forward around the end of October when the cluster product goes out of its beta testing stage. TurboLinux expects clustering to be a highly successful product for them.

It is clear that TurboLinux intends to be a major presence in the Linux landscape, and not just in Japan. It is going to be interesting to watch as this market gets ever more competitive. As Mr. Johnston told us in parting, it's still "the early days of Linux."

(See also: TurboLinux announces Dell is shipping TurboLinux-installed systems in Japan and SMC is bundling TurboLinux Workstation with its network adaptor products).

SCO has taken an equity stake in the Linux Mall. Some details can be found in SCO's announcement. The size

of the investment is not being disclosed, of course, but SCO is treating it like a large deal.
We talked with Mike Foster, SCO's Director of Corporate Communications. Mike tells us that this investment is "just another step in SCO's Linux strategy," which has been ongoing for some time. Mike stresses SCO's membership in Linux international and its release of products like lxrun and OpenSAR as open source as examples of SCO's commitment to Linux and open source.
SCO stresses that it is not "buying" the Linux Mall. No immediate changes are seen in the Linux Mall's web site - it is not a "co-branding" agreement. SCO is making this investment (1) to try to increase its involvement and visibility in the Linux community, and (2) because they expect a direct financial return from it. They say that this is "not the end" of their Linux announcements - in fact, the pace of such announcements is expected to increase.
Mr. Foster claims that SCO feels no threat from Linux - they see UnixWare as a sort of "big brother" to Linux. They see initiatives like the Monterey project as a solid base for the future. He also pointed out SCO's other activities, such as their professional services groups and middleware (like Tarentella) products - SCO is more than just UnixWare.
When asked about the anti-Linux SCO bulletin released recently in Europe, Mr. Foster responded that it had been a mistake, that it did not reflect SCO's thinking toward Linux, and that it had been taken down almost immediately. SCO is extremely bullish about and supportive of Linux and Open Source, he says.
SCO is clearly bullish enough to toss money in the direction of Linux. Their funds (and the participation of Hambrecht & Quist) look almost certain to propel the Linux Mall in the direction of yet another Linux IPO in the near future. Linux is quickly turning into big business.
The Atlanta Linux Showcase is underway as of this writing. LWN editor Liz Coolbaugh is there staffing our booth and reporting on what's going on. Her reports will be available at kiosks on the show floor; we are also running a mirror on the LWN server. That will be the place to go to get the latest from the conference.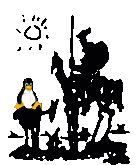 Awash in penguins. The LWN Linux Penguin Gallery was announced last week. Since then, numerous people have written in with additional penguin sightings. The gallery now contains over 160 unique Linux penguins. While there are quite a few "Tux with a hat" varieties, there are also many of them that are truly imaginative. Thanks to all of you who have helped us to build this collection.

Inside this week's Linux Weekly News:

...plus the usual array of reports, updates, and announcements.

This Week's LWN was brought to you by: