Please note that security updates from the various distributions are covered in the security section.
News and Editorials
Distributions in Review - Part 1. With this last issue in 2001, we begin a year end review of Linux Distributions. It has been a busy year, so this issue covers only January through June, 2001. Part 2 - July through December, 2001 - will conclude in the January 3rd, 2002 issue. The first part of the year saw many lay offs, and many new distributions.
Caldera did not get off to a good start. The company announced lay-offs as Caldera Systems transitioned into Caldera International (Caldera + SCO).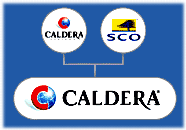 Caldera knows of no company that has built a profitable business based in whole or in part on open source software.
-- Caldera SEC filing.
Caldera's release of OpenLinux 3.1, with per-seat licensing was controversial.
Things were slow at Debian. Ben Collins was elected Debian Project Leader. HP selected Debian as its development distribution, "first among equals". The woody freeze plods along.
MandrakeSoft had its ups and downs. The company set up a donations page, in the hope of getting revenue from its users, just in time for the release of Mandrake Linux 8.0. Twenty-five employees were laid off, including CEO Henri Poole. The push into education services ended and the company announced that it would go public on the EuroNext Marchť Libre.
Red Hat Linux 7.1 was released. The company also launched new consulting services oriented toward companies migrating to Linux.
SuSE laid off most of its U.S. staff in a cost cutting move but managed to retain 48% of the U.S. retail market, according to data from one PC Data report (other reports, of course, vary). SuSE Linux 7.2 was released.
Mandrake, Red Hat, SuSE, and Turbolinux announced support for Itanium systems.
Wind River Systems acquired BSDi and then laid off the Slackware developers it acquired with BSDi.
Slackware has always made money (who else producing a commercial distribution can say that?) but with BSDi, we ended up strapped to a sinking ship.
-- Patrick Volkerding
Hard Hat Linux 2.0 was released by MontaVista Software. MontaVista also had lay offs.
Jason Haas resigned from LinuxPPC, and retired from the computer world (resignation letter).
Yellow Dog Linux 2.0 shipped.
Immunix 7.0 was released with bundled proprietary software.
Progeny Linux shipped its first and last edition.
Many new distributions were announced. Here's a partial list.
New Distributions
Dettu[Xx]. Dettu[Xx] ... probably the worlds nastiest Linux-distribution is still in development. Or maybe it's a done as will get. A few brave geeks have managed to install it; the record, a runable x11 in less than 12 hours. Eight floppies gives you enough tools to download everything you need over the Internet and build the packages on your computer. It's also available at this mirror site. We've put it under 'Education' on our Linux Distribution List.
Distribution News
Debian News. Here's the Debian Weekly News for December 12. Covered topics include Debian at FOSDEM, the best way to contact bug submitters, the Debian menus policy, and more.
There are some new mailing lists for discussions of Debian qa-packages, ssh and apache.
Mandrake Linux Community Newsletter. The Mandrake Linux Community Newsletter for December 18 looks at Mandrake in the news, the latest Cooker happenings, the business case of the week, and more.
The Mandrake Linux Community Newsletter for December 12 covers a review of the Mandrake 8.1 Gaming Edition, OpenOffice, the business case of the week, and more.
Mandrake Linux has an update advisory for the flex package. Versions ML 8.0 and 8.1 are affected.
Red Hat Linux. Red Hat has announced the availability of its distribution for the S/390 mainframe. Also available, of course, are the usual array of support services.
Here's a Red Hat Enhancement Advisory for a newer jadetex package, with a missing package trigger added. RH 7.2 only.
Slackware Linux. Slackware.com was broken into and is currently unavailable. Development continues, however, with improvements to pkgtools-8.0.2 and to koffice-1.1.1 on the Slackware Linux current-Intel branch. See the ChangeLog for details.
The LinuxSalute package development team has released LinuxSalute-Gnome Desktop 1.0 for Slackware 8.0. Desktop 1.0 is designed to replace the default Slackware installation of Gnome.
Yellow Dog Linux. Terra Soft Solutions, Inc. announced the official Yellow Dog Linux Developer Support Program. The YDL Developer Support Program is free of charge and members are eligible for online access to several machines including an Apple Macintosh build-box, a single Yellow briQ Node, and a Yellow briQ cluster; as well as discounted Terra Soft products.
Minor Distribution updates
Coyote Linux. Not really an update to the distribution, but interesting none-the-less: Coyote Linux now features a page on what it took to move the Coyote Linux site.
DyneBolic Newsletter #3. dyne.org presents the DyneBolic Newsletter for December 16, 2001. Topics covered include free downloads of the DyneBolic GNU/Linux desktop, FreeJ 0.2.3, and more.
Mindi Linux. Mindi Linux builds boot/root disk images using your existing kernel, modules, tools and libraries on floppy or CD. Version 0.48 provides better support of SCSI CD-ROM drives and RAID controllers. See the ChangeLog for more details.
OpenNA Linux. OpenNA Linux is designed to be highly secure and very fast. It is intended for those who want to install and run a Linux server for mission critical tasks in a high security environment. The current version is beta1.
Rock Linux. Rock Linux will be represented at the 18th Chaos Communication Congress (December 27-29, 2001 in Berlin, Germany) by over 20 of the ROCK community.
Sorcerer GNU Linux. Sorcerer GNU Linux has released version 20011216 with minor feature enhancements.
Distribution Reviews
Mandrake 8.1 easier than Win-XP (Register). The Register reviews Mandrake Linux 8.1 from a Windows-user point of view. "But regardless of whether you choose to run KDE or Gnome, the Linux desktop definitely isn't as pretty. It's more configurable, certainly; the OS is more stable; you get lots of free applications and utilities; and your machine will be a lot more secure, if for no reason other than your immediate escape from that premium virus propagator Outlook."
Red Hat Adds To Linux's Credibility (TechWeb). TechWeb reviews Red Hat Professional Server 7.1. "Professional Server 7.1 gets one of our Best Of The Best nods because of its overall excellence rather than for superlative performance in any one area."
Section Editor: Rebecca Sobol